The latest Edition of the Adelaide bank and REIA Housing Affordability Report has now been released and shows a further improvement in affordability with the reduction in interest rates. I have attached the report below for those interested in reviewing the information. With housing affordability now the best it has been in excess of five years, it is no doubt a great time to get out of the rental market and into your own home.
Welcome to the March 2013 Quarter edition of the Adelaide Bank / REIA Housing Affordability Report. Given our commitment to assisting aspiring home owners for more than 100 years, we're proud to be able to support the work of the Real Estate Institute of Australia in preparing this report on a quarterly basis.
The welcome news in this quarter's edition of the Adelaide Bank/REIA Housing Affordability Report is that the proportion of family income required to meet home loan repayments has dropped below 30% for the first time in almost five years. This figure is significant because traditionally, it's the point that has been used to describe what is generally accepted as 'housing stress'.
'Seventh consecutive quarter of improved affordability'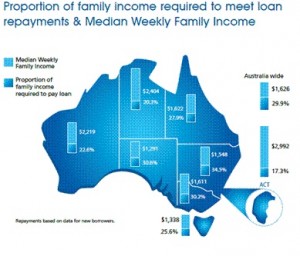 Housing affordability continues to improve:
REIA Home Loan Affordability Indicator (HLAI) continues to move in the right direction for home owners.
Proportion of income required to meet loan repayments decreased 0.5 percentage points to 29.9%.
Lowest level for almost five years.
Average monthly home loan repayments decreased by 1.2% to $2,106.
Total number of loans (excluding refinancing) decreased 11.3% over the March quarter, but increased 1.5% year on year, compared to the same quarter 2012.
Investors continue to return to the housing market, with investment loans representing 36% of total lending in the March 2013 quarter.
First home buyer numbers plummet:
Number of new finance commitments to first home buyers dropped 22.5% in the March quarter, a drop of 21.3% compared to the same time last year.
They made up just 14.5% of owner-occupier market –  the lowest number since the June quarter 2004.
South Australia was the only state to record a rise in the number of loans to first home buyers, up by 1.8%.
Biggest falls were in Queensland and NSW, which fell 43.2% and 40.6% respectively.
The improvement in housing affordability is great news for aspiring home owners and investors and should encourage more borrowers back into the market.