A recently completed report by Adelaide Bank and REIA known as the Housing Affordability Report has provided some great news for aspiring home owners with Housing now the most affordable it has been for more that two and a half years. While this improvement is clearly a direct  result of the combined benefit of reduced house prices, reduced interest rates and increasing income, it is still great news for the property market, with investors and first home owners showing a lot more interest in purchasing properties again.
If you have been thinking about buying a first home or investment property, you will be very interested to read some of the findings from the report. I have listed some of the findings from the report below for your reference.
Great news for aspiring home owners:
REIA Home Loan Affordability Indicator at highest level since December 2009, indicating housing is the most affordable it's been for two and a half years
Fourth consecutive improvement in the housing affordability figures
All Australian states and territories recorded improvements in housing affordability compared with the June quarter 2011
Median weekly family income now $1,560, compared to $1,493 in June Quarter 2011
Average monthly loan repayment is $2,155 compared to $2,290 in June Quarter 2011


 "housing is the most affordable
it's been for two and a half years"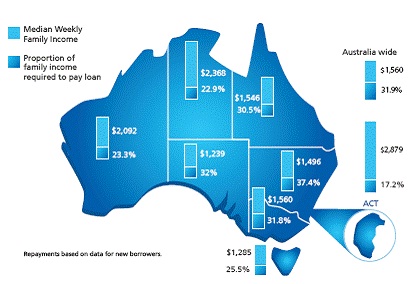 For first home buyers, the news gets better:
Number of first home buyer increased by 5.9% to 25,101 for the June quarter 2012
11.8% increase compared to June quarter of previous year
Standout was Victoria, with a 23.5% increase in first home buyers over the quarter
Loans to first home buyers increased in all states and territories with the exception of New South Wales and the Northern Territory.
These insights highlight that the property market really is an organic growing asset class and that inflation, interest rates and income growth all go towards affecting the overall affordability of owning or purchasing a first home. There are real opportunities in the market to get properties at well below the replacement value, however this will change quickly with the usual effects of supply and demand.
At Loan Wize our passion is to assist you to buy that perfect home for you and we have a comprehensive range of products that cater to all types of borrowers. We can work with you so that you completely understand where you stand at all times along the way. First Home owners can often purchase a home for little more than they are paying in rent, however raising the deposit in many cases is the biggest hurdle to home ownership. With options like Family Pledges / guarantees, gifted deposits or even borrowing your deposit funds, there may well be a solution to getting you started down the track of the great Australian dream of home ownership.
With access to lenders that will consider First Home owners with a 5% non-genuine savings deposit as well, this opens the door to many who have the income but have trouble saving for the deposit while renting. It may be that the deposit can come from a gift or loan provided that your income is sufficient to cover all of your debts.
If you have been thinking about buying your first home, then now is the time to act, give us a call on 1300 LOANWIZE and we will tell you straight if we can help, and if we can't help right now, we can tell you what you need to do in order to qualify.